I am sorry for the long, long wait, but here's part 2. A lot of fascinating details about the production of Princess Kaguya. I've also started adding tooltips (I may go back and add some to part 1 at some point). I plan to finish the third and last part by tomorrow.
You can read part 1 here.
The original Japanese article can be found here. Originally published in the Ghibli Textbook #19: The Tale of Princess Kaguya.
---
"When I Proposed Dismissing Director Isao Takahata" – Toshio Suzuki talks about Isao Takahata (Part 2)
At that time, Takahata-san was eager to adapt "The Tale of the Heike". A concept that sounded interesting, but there was one problem: Who would do the key animation? "When it comes to drawing the Heike battle scene, no one but me could do that," Hayao Miyazaki boasted and I understood how immensely difficult it would be on a technical level. Takahata tried to ask Osamu Tanabe who had worked on "The Yamadas" to do it, but Tanabe in his stubbornness retorted: "I don't want to draw pictures of people killing each other."
I then proposed "Tale of the Bamboo Cutter". As everyone knows, this is Japan's oldest story and I remembered that Takahata himself had said once that "it should be turned properly into a movie by someone." When I brought that up again, he replied: "I did say that someone should make it, but I never said I was the one."
"Why Did Princess Kaguya Choose the Earth?"
I told Takahata how Ujiie-san told me he wanted to see one more of his works at all cost before his death. Since there were no other good proposals, and "Tale of the Bamboo Cutter" had no scenes of people killing each other, Tanabe-kun would also agree to help, I told him. While trying to convince him with these words, Takahata-san suddenly asked: "Okay, please tell me one thing. Why did the princess, among all the stars, choose the Earth? If we don't understand this, we can't make this movie, right?" "Please think about that yourself," I was about to retort, but he would continue this question-and-answer game with the producer forever because he was someone who needed this input at certain intervals to move forward. When such a discussion got going, he wouldn't stop and continue talking throughout the entire night, even until the next morning without batting an eyelid.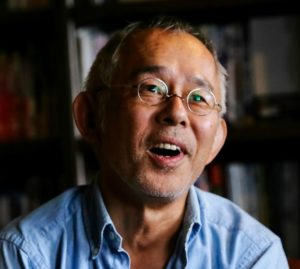 Especially during the planning stage, we had to do these talks for at least 10 hours every day. Honestly speaking, I got fed up with this and it also left me with no time to attend to my other work. That's when I sent the young Yoshiaki Nishimura and Taku Kishimoto in as Takahata's discussion partners. Because they were so young, they were able to stand their ground as his conversation partners, and my hope was also that having new conversation partners would prove to be stimulating for him. And when it actually began, those two young guys listened enthusiastically to what he had to say which also seemed to make him happy.
I periodically had the two report to me, at which point they told me that Takahata-san wanted to completely change the project plan in the middle of the way. He was thinking about making a drama with Norio Akasaka's book "Birth of the Lullaby" as an original concept. But he himself understood that this would be difficult. So after many twists and turns, he returned to the initial "Kaguya" plan and the production began formally.
"That Man Still Has the Scent of a Marxist"
I believe that as a producer, I must run a three-legged race with the director, so to speak. Looking at it from that perspective, I couldn't be called producer this time. That's why I appointed Nishimura as the producer and left everything to him. By the way, the other producer, Kishimoto, quit Ghibli in between and is now a popular scriptwriter.
As the preparations for "Kaguya" progressed, Ujiie-san invited Takahata-san, Miya-san and me on a trip to visit art museums in Europe. Beginning in 2008, we would visit [museums in] France, Italia and Spain for the next three years, but I think Miya-san and I were just extras – Ujiie-san really wanted to go with Takahata-san.
At that point I tried to ask him why he was so fixated on Takahata-san.
"Takahata's movies have a poetic side. I fell in love with that. That man still has the scent of a Marxist." That was Ujiie-san's answer. In the end, the movie could not be completed in Ujiie-sans lifetime. But at the end of 2010, he was able to take a look at some of the storyboards that were already completed. He took his time to read through them, and then uttered: "Princess Kaguya sure is a selfish girl. But that's just the type of girl I like." Three months later, Ujiie-san left this world at the age of 84.
"Hayao Miyazaki's Unassuming Cooperation"
In the early stage of the production, at one side of the floor, the "Kaguya" team would work, and Miyazaki's team on the other side.Tanabe-kun, one of the artists from the Kaguya team, would come early and diligently draw the key animation by himself. Takahata always came in the afternoon. Then right after arriving, he would look at Tanabe-kun's drawings and angrily complain "not like this, this is wrong."
Observing this every day, I noticed something amusing. When Takahata-san got angry, Miya-san would casually stand behind the Kaguya team and strain his ears to hear what was going on. Then on the next morning, he'd visit Tanabe at his desk. "What Paku-san meant is this. That's why you have to draw it like that," he would explain while drawing what he meant. "But don't tell Paku-san that I told you this." That's what he'd do every day, all while neglecting his own work.
But Tanabe is a stubborn guy, so he refused to draw like that. Miya-san really has a soft heart, it was touching to see… After "The Yamadas", he saw the terrible state of the studio. "We can't let him make another movie," he exclaimed furiously, but in the end he himself wanted to see Takahata's works more than anyone.
"If You Want This Work to Be Completed, Dismiss Takahata"
When the preparations had reached a certain point, the progress suddenly slowed down. When I asked Nishimura, I learned that in short, Takahata tried to make Tanabe single-handedly draw all the scenes. The already steep demands from "The Yamadas" were escalating further.
In the past decades, the level of detail in animation has gradually increased. For example, during "My Neighbor Totoro", one person drew about ten minutes worth of key animation of a feature-length movie, but nowadays no more than 3 minutes are possible. In a time of strong work segmentation where more and more animators are needed, Takahata tried to make one single person draw everything.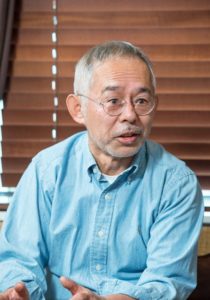 If he'd leave it to a select few, I could understand it, but it just wasn't realistic to leave it to one person. I then took a middle position and suggested Nishimura to have about three people draw the pictures. As a result, Masashi Andō returned to Ghibli for the first time in a long while. Under Miyazaki, he'd worked as the animation director for "Princess Mononoke" and "Spirited Away". Furthermore, Ken'ichi Konishi and Shinji Hashimoto, who had worked on "The Yamadas", joined in and things finally progressed on the key animation side.
It was when the production was maybe halfway done when Nishimura came to me and said with a serious expression: "We won't be able to complete it at this rate." At that time, I told him: "If you really want this work to be completed, dismiss Takahata. Just leave the rest to Tanabe or Andō." Takahata was someone who had studied the French language and learned to think in an European style of rationalism. I won't go as far as to say he would have quit by himself, but if a producer dismissed him from his post, he would think about it logically and obey. That was an especially troublesome time for Nishimura. In the end, after a 3-month standstill on the key animation side, he was able to get Takahata-san to devote himself to finishing the storyboard.
Trouble like this came and went, but this time I didn't have to deal with it directly, so I was able to take it relatively easy. Nishimura-san, who continued to work with Takahata-san, on the other hand, got thinner and thinner. I appointed him when he was 28, but when the work was finished, he was 36. During this time, he had married and become a father. He devoted most of his youth to one film. I think he really, persistently did his best.