Original Title: ポケモンをつくった男 田尻智
Published: May 21, 2018
Publisher: Shōgakukan
Price: ¥900
Last year, an autobiographical manga about the life of Satoshi Tajiri, creator of the famed Pokémon franchise, was published in Japan. Shōgakukan marketed the book as a "Learning Manga Special" (学習まんがスペシャル) – Learning Manga 学習まんが is a popular series that covers many famous personalties, including Tezuka Osamu, Napoleon, and van Gogh. They also included photo material and information on Tajiri in addition to the manga sections. The book made some headlines in English media outlets for featuring some never-before-published early-stage designs of first-generation Pokémon (covered in detail here) but was otherwise mostly ignored. I'll try to give an overview of its contents.
The first thing to notice is that the manga is, unlike most manga, actually a hardcover release. It includes 16 colored pages and fully-colored front and back covers (as opposed to just a colored sleeve), making its ¥900 price tag more than justified.
The first few pages contain a brief overview of how Tajiri's love for bug catching and video games eventually lead him to develop Pokémon before the manga section begins.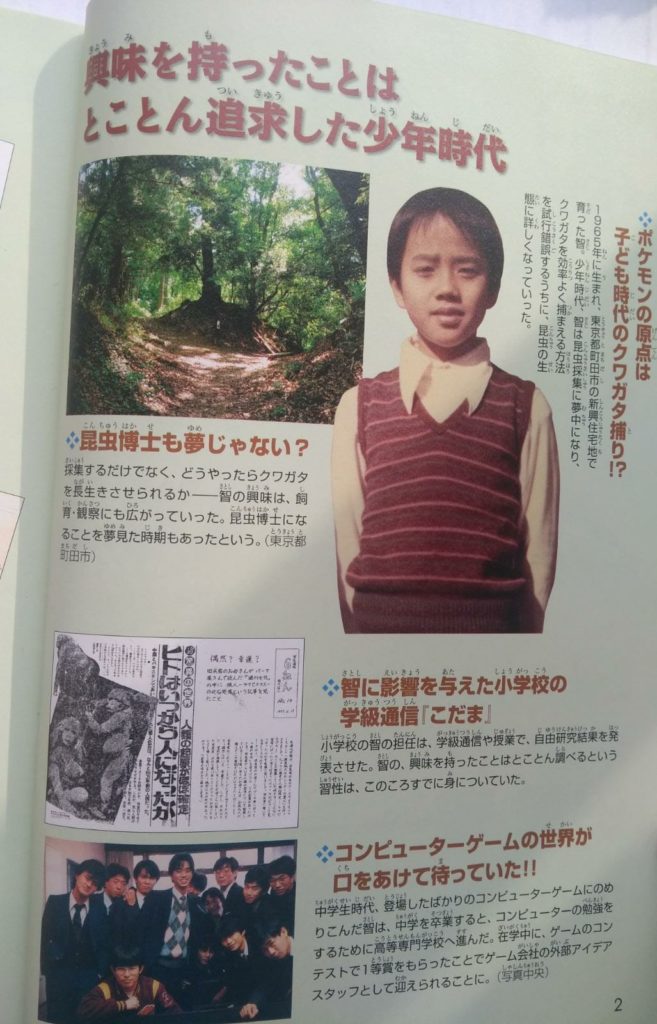 The manga covers the following chapters of Tajiri's life:
Prologue
Bugs and Invader  – Tajiri hunts bugs as a child and discovers his Space Invader in his youth, the game that turned him into a video game enthusiast.
An Increasing Number of Friends – Tajiri creates and sells the a dōjin strategy guide magazine "Game Freak" during his high school years which becomes extremely popular and leads him to meet Pokémon character designer Ken Sugimori and composer/programmer Jun'ichi Masuda.
Struggles of an Amateur Publisher ~The First Game Strategy Guide~– The group of friends decide to make video games together. Tajiri's motto is that Game Freak should "make games they'd want to play themselves". With no budget and resources, however, they have to build their development environment from old used computer parts and find a publishing partner for their games. Their first success, Quinty, nets them 50,000,000 yen – money they use to create a company.
Hardships of Society and the Budding of Pokémon – Tajiri witnesses the potential in the cooperative aspect of the GameBoy's link cable and decides to create a game centered around that aspect. With support from Nintendo and Shigeru Miyamoto, development on Pokémon begins.
A Series of Troubles – Game Freak experiences funding problems, eventually leading to a development time of 6+ years while Tajiri continues to polish his ideas. Dissatisfied with the situation, all three of Game Freak's programmers leave at a crucial point, at which point composer Jun'ichi Masuda offers to take the position of the main programmer, despite only having hobby experience.
The Birth of Pokémon – Pokémon is finally completed and released first in Japan, then worldwide. It becomes an instant hit.
Epilogue – Tajiri is happy whenever he sees how Pokémon has become a part of so many children's lives.
Between chapters, there are short trivia segments about Tajiri's life that include some of his personal remarks. While the general story that lead to the birth of Pokémon is well-known, we learn a bit more about Tajiri here – his fondness for overseas radio programs and discovering unknown worlds and more. There are some amusing anecdotes here: His love for video game music lead him to sneak out of his home at night to record the sound of the games in arcade centers when few people where there, a passion he shared with one of his friends. His mother, however, was really angry when she caught him one night.
The last part of the book contains a six-page commentary by Shigeru Miyamoto, reminiscing about his relationship with Tajiri and his personality. Here Miyamoto says that although he worked as a producer on the Pokémon series, Tajiri had such a keen understanding of what makes a game fun that Miyamoto didn't really have to get involved during the production of the first game. What he did, however, was provide Game Freak with a larger ROM that allowed Tajiri and his friends to increase the number of Pokémon in the game from 30 to 150. Miyamoto's comments help to understand what an extraordinarily strong vision Tajiri had and what set him apart from his peers.
The manga itself is a joy to read and will appeal to both readers interested in the life of Tajiri and those who just want to see the birth story of the Pokémon games presented in an exciting way. The drawings are playful, but not too exaggerated, and there's a lot of additional information crammed in via narration textboxes.
Overall, I'm quite fond of this book. It's very accessible even for children, and the presentation of the environment Tajiri grew up in makes it a rather engaging read, complemented by facts and tidbits about Tajiri and the Pokémon franchise. I always perceived Tajiri as a rather media-shy person, but in the manga, he actually makes a quite social impression. I also realized once more that many of the most successful creative people had parents who granted them a lot of freedom and supported them in their endeavors – in this case, Tajiri's mother.
The book is not too in-depth, so there are undoubtedly books out there that cover the history of Pokémon in more detail, but it's definitely very enjoyable and I would recommend it to anyone at least mildly curious about what kind of person "the man who created Pokémon" is. I see no reason why the book wouldn't have at least moderate success on the English-language market.